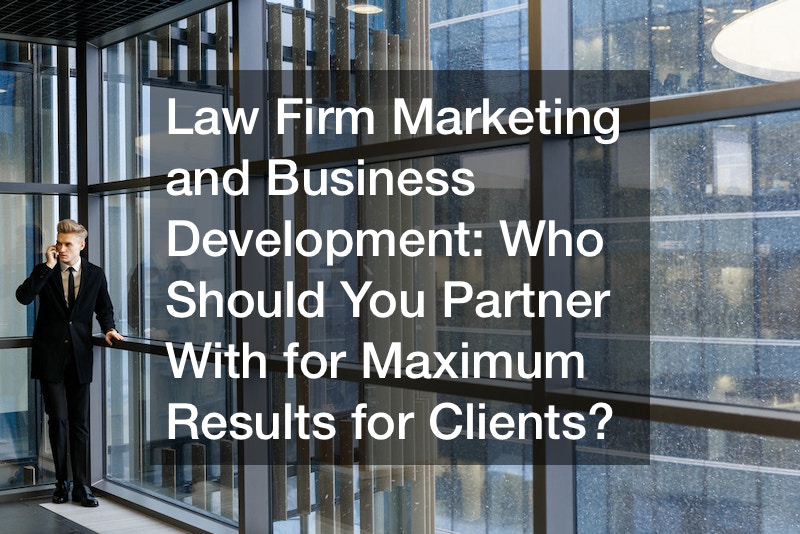 The legal field is ever more competitive. As new law students graduate, law firms sprout out by the day. It has become a crowded marketplace, and standing out is becoming tough. The law is a serious business, which explains why many law firms avoid jazzy marketing plans and flashy billboards. It's even law in some countries to desist from active advertising, as doing so is considered tacky and unbecoming of the profession. But, law firms are first and foremost business entities and need to thrive and make profits apart from providing legal services. This article discusses the importance and modes of law firm marketing and business development to achieve business success while maximizing client benefits through various partnerships.
Why Marketing Is Important for Law Firms
A law firm needs a marketing plan to sustain and expand the business and give it a competitive edge. Some firms may need to pay more attention to the importance of law firm marketing and business development as they concentrate solely on managing the law practice aspect. There are more prudent strategies.
Note that new clients must keep walking into your offices if you're to remain relevant. Marketing your law firm should aim to retain satisfied and past clients besides targeting new ones. To grow your firm, emphasize marketing to explore other untapped client bases by letting them know you've got what they need. A law firm ensures that its customer service, legal advice, and service delivery are top-tier. This is one of the key things that legal clients value, along with cost, quality, and value addition.
Granted, law firms that run on integrity and trust may not improve their public image through conventional marketing media commonly used by other businesses. The more lawyers strive to paint themselves with tantalizing advertisements to seduce clients, the more they appear fishy. So, law firms must embark on subtle modes of marketing to maintain their noble profession based on fiduciary arrangement while spreading their tentacles to reach more clients.
Hire a Marketing Professional
It's a delicate balance between marketing your law firm and maintaining a sincere, practical image. Hiring a professional marketing agency is a great way to receive expert advice and services for your law firm marketing and business development. These professionals specialize in equipping law firms with strategies for effective marketing to reach bigger client pools.
Involve an experienced law firm consultant before you select a marketing professional. They're likely to suggest branding through innovations like pad printing service to improve your image as you look to grow your business. These experts will guide you on current strategies, channels, and techniques to help reach your target audience. The strategies could include combining digital marketing, print, blogging, digital ads, and more. Also, they will assist you in determining and leveraging emerging trends to keep your firm ahead of the competition.
Hire a Financial Planner
Some financial planners specialize in advising attorneys and law firms. They guide them through the peculiar hurdles and opportunities often faced by law firm marketing and business development. It's intimidating to bear your law firm's financial management and planning burden. In any case, your expertise falls in a different lane. However, basic knowledge and investment in the fundamentals of financial planning can put you firmly on the path of law marketing and business development. A financial planner for a law firm helps with organizing, planning, controlling, and directing your business's financial aspects. They'll also guide on matters, revenue, financial projections, budgets, and cash flow systems. You'll manage more clients as your revenue increases consistently.
Contact local financial planners if you're seeking to develop a tailor-made plan for your business. They'll provide the systems you need to achieve financial goals in the short, medium, and long term. Although it may be challenging to find a law firm financial consul with the experience and dedication you yearn for, your objectives should direct you to one who's most suited, both in terms of experience and cost.
Criminal Law: Partner With Local Treatment Centers
You're a firm looking to expand but must outsmart the cutthroat competition in this crowded sector. It's time to cast your net far and wide, and partnering with local treatment centers is one way of maximizing your law firm's marketing and business development. At such treatment centers, you're likely to obtain clients who've contravened the law in one way or another. It's typical to find that due to substance and alcohol addictions, multitudes are admitted to the centers for reasons ranging from violent crimes, trafficking, rape and sexual assault, GBV, burglary, and arson. If your firm has criminal defense lawyers, partnering with these treatment centers is a way to link up with those needing legal services.
Not to be ignored are ethical crimes that might be committed against the recovering patients in these treatment centers. Like patients in any medical facility, these people can be victims of a breach of confidentiality and other basic human rights violations. A common occurrence at some of these treatment centers is adverse drug reactions, especially during procedures like detox or in the administration of medication to ease off withdrawal syndromes. In addition to clients being held or subjected to treatment against their consent, these should be considered.
Suboxone treatment centers, for example, offer treatment for persons struggling with hard drug addictions, alcohol addiction, depression, social malfunctions, and those who may have had a brush with felonious activities. Reaching out to them has the dual benefits of creating new client pools and, at the same time, helping recoveries sort out their legal obstacles.
Auto Law: Partner With Local Auto Shops
For the benefit of your law firm marketing and business development, auto law is another fertile ground to have your eye out for. Seek partnership with local auto shops as a strategic position, since it's common knowledge that automobile crimes are rampant. On a near-daily basis, vehicular manslaughter, car-jacking, vehicular assault, grand auto theft, reckless driving, and DUI crimes are committed.
Accidents and car repossessions are other occurrences that auto shops handle regularly. Check with shops that provide collision repair services to target clients needing legal services that target vehicle damage. Most auto mechanic shops have a wealth of information on car owners who've committed automobile crimes or have crossed these lines. Remember, law firm marketing and business development aim to fish out new clients from the multi-diversity of social life to maximize benefits for your business and clients.
Real Estate Law: Partner With Local Rental Companies
In real estate, participants often confront the inescapable reality of legal matters. Even with today's technology and continuous real estate education, the field is rife with complex legalities and regulations. Real estate agreements and transactions are multifaceted, presenting various legal matters and potential risks. There are endless legal challenges when selling, buying, or leasing property. These range from defrauded buyers to sellers reluctant to adhere to certain title deed restrictions, housing rights and regulations, antitrust, and various liability concerns.
Your law firm marketing and business development will likely maximize results for both firm and clients if you partner with rental companies. With issues of misrepresentation, non-disclosure, discrimination, and contract infringement, you're sure to attract a myriad of clients with such a partnership. A company offering rental management services can be of enormous support, since such legal issues are often on their doorsteps daily. These rental companies may also be victims; thus, keeping vigilant is important. But, such partnerships are imperative for enhancing your law firm's marketing and business development.
Divorce Law: Partner With Local Support Groups
The stability of marriages in the contemporary world is a stubbornly shaky affair. Divorce cases have become the order of the day. An entity seeking law firm marketing and business development should consider partnering with support groups since they'll likely handle divorce-related incidents. Among issues that cause divorce are the rising cases of GBV, violent crimes, sexual assault, vandalism and property damage or arson, vehicular accident issues, and notorious adultery. Support groups exist to help survivors deal with losses, different forms of trauma and injuries, mental and emotional issues, and more.
Getting acquainted with counselors and psychologists who run these support groups and equipping them with vital information on divorce law matters and where to access local divorce lawyers is a great way to put your best foot forward. They can, in turn, educate and equip their clients with information about procedures to follow, fees charged, or pro bono services available for financially restrained people. You could also petition for opportunities to train clients on their legal rights and what they're entitled to regarding marital property and child custody cases. This way, you will build a case for your law knowledge and attract clients.
Medical Law: Partner With Local Hospitals and Clinics
Professionals in the medical sector are tasked with administering health care to humanity, and they take oaths that promise non-maleficence, sincerity, and efficiency. However, in some cases today, those qualities have yet to be upheld. The patient-doctor relationship has almost diminished in what was once a trust-based relationship.
Besides, courtesy of a detached, bureaucratic, and highly structured culture, doctors no longer hold that long-standing quality of being infallible and beyond reproach. As a result, it's strategic to collaborate with local hospitals and clinics for your law firm marketing and business development. Consider ethical cases related to informed consent, confidentiality, medical negligence, and incidents that can attract liability and payment for damages, along with the rising cases filed by aggrieved patients seeking medical treatment.
Legal assistance is no longer a matter of choice but part and parcel of the process, from admission to discharge. Look at the whole medical fraternity from a broader perspective and explore the associated accessories. These may include bone graft companies, dental denture dealers, and medical equipment companies in regular contact with potential malpractice victims.
Look for other subtle ethical issues in medical practice, such as adverse drug reactions and false imprisonment. It's easy to see the wealth of cases your law firm could take up. Partnering with local hospitals and clinics is a sure way to create opportunities for your law firm's marketing and development.
Family Law: Partner With Mental Health Professionals and Religious Organizations
This area of legal practice focuses on family relationships, such as marriage, divorce, child custody, foster care, adoption, reproductive rights, and others. It intersects with other legal practice areas like criminal investigations in cases of abuse, so family courts are implored to determine how best to protect the victims.
Family law attorneys are sought after by family members to represent them in court or related negotiations. Also, they help draft important legal documents such as property agreements or court petitions. Cases can vary from emancipation, alimony, paternity, and prenuptial agreement to marital property. This array of cases provides a rich field of clients that could boost your firm's portfolio.
Mental health practitioners, such as psychologists and psychiatrists, are useful in delivering information regarding clients needing legal representation and protection and ongoing therapy sessions. Sometimes, due to the cost constraints attributed to the high fees these mental health experts charge, some people consult their religious leaders, including pastors, sheiks, rabbis, and others. A law firm in courtship with these religious leaders has a higher chance of gaining clients from their fold.
Like other business entities, a law firm must be known, grow, thrive, and beat its competition. Whether you're a sole practitioner or your firm employs hundreds of attorneys, creating a marketing plan is an essential part of the success of your business. Once you understand the needs of your firm, you can reevaluate and implement a strategic marketing plan, prioritizing the most influential sectors to partner with.
As discussed above, there are many ways to market your company. Still, you must be keen to encompass individualized SMART goals sensitive to your circumstances and the welfare of your clients. By executing this law firm marketing and business development plan through a structured, systematic strategy that allows you to measure results, you'll reach more potential clients and assist them while making your law firm achieve unmatched growth.