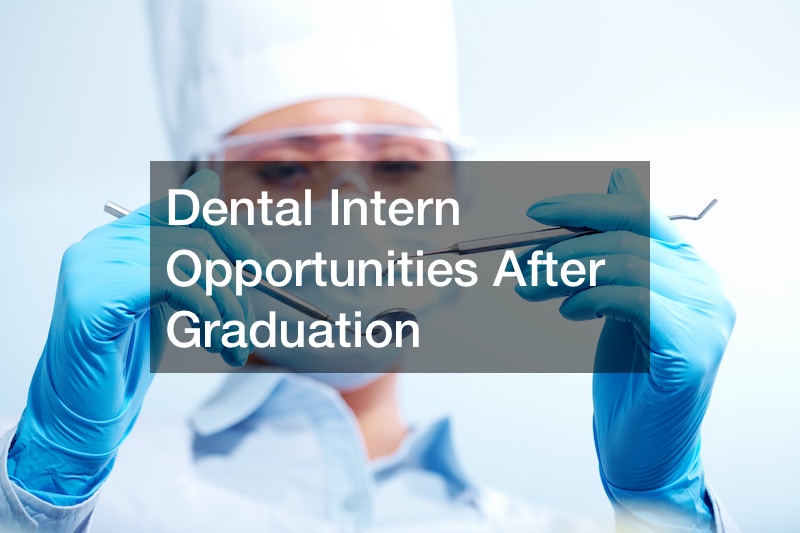 Are you a dental student about to graduate and embark on your professional journey? The dental field offers a myriad of exciting opportunities for internships that can provide invaluable hands-on experience and help kickstart your career. Keep reading for a range of dental intern opportunities available after graduation.
Private Dental Clinic Internship
A private dental clinic internship offers a unique hands-on experience in a non-academic setting, allowing you to apply your dental knowledge and skills in real-world practice. Private clinic internships expose you to the daily operations and challenges of running a dental practice. During your internship, you'll gain practical experience in various dental procedures, including teeth fillings, and learn about the specific protocols and techniques employed in a private clinic environment.
Payment for private dental clinic internships can vary depending on factors such as the location, duration, and the specific arrangement with the clinic. Internship stipends or hourly rates can range from $10 to $30 per hour, with some clinics offering additional incentives such as performance-based bonuses. It's important to clarify the payment structure and expectations with the clinic before starting your internship to ensure transparency and mutual understanding.
To apply for a dental intern position at a private dental clinic, prepare a well-crafted resume highlighting your dental education, clinical experience, and relevant skills. Next, write a personalized cover letter expressing your interest in the specific clinic and outlining your career goals. Research and identify private dental clinics in your area or desired location, and reach out to them directly to inquire about internship opportunities.
Internship at University Dental School
An internship at a university dental school offers numerous benefits for aspiring dental professionals like you. Firstly, it provides invaluable exposure to a diverse range of clinical rotations and dental specialties, allowing you to broaden your knowledge and experience in various dental disciplines. Secondly, the university environment fosters an atmosphere of continuous learning, offering opportunities to engage in dental research projects and gain a deeper understanding of evidence-based dentistry.
One of the significant advantages of an internship at a university dental school is exposure to state-of-the-art tools and technologies used in dental practice. From advanced imaging techniques to digital dentistry, you'll have hands-on experience with cutting-edge equipment. For example, you may have the opportunity to perform oral cancer screening using specialized screening tools, enhancing your diagnostic abilities and raising awareness about oral health.
While interning at a university dental school offers numerous advantages, there are some potential drawbacks to consider. As a dental intern, you may face a more rigorous workload and higher expectations compared to internships in other settings. The academic environment may demand a higher level of academic performance and commitment to research activities. The valuable experiences, mentorship, and academic resources available at a university dental school, however, outweigh these challenges, providing you with a solid foundation for a successful career in dentistry.
Community Health Center Dental Intern
As a dental intern at a community health center, you'll have a unique opportunity to make a meaningful impact on the oral health of underserved populations. Community health centers play a vital role in providing accessible and affordable dental care to individuals who may not have regular access to dental services. Throughout your internship, you'll actively contribute to general dentistry services, offering preventive and restorative care to patients in need.
Your role as a dental intern will involve working closely with a diverse patient population, often with limited resources or without dental insurance. you'll assist in providing comprehensive dental exams, cleanings, fillings, and other general dental procedures to improve oral health and alleviate pain. Furthermore, you'll actively participate in oral health education initiatives, teaching patients about proper oral hygiene practices and preventive care.
Collaboration is key in community health centers. As a dental intern, you'll work alongside a multidisciplinary team of healthcare professionals, including dentists, dental hygienists, and medical practitioners. This collaborative environment allows for holistic patient care, addressing not only dental needs but also considering the overall well-being of patients.
Government Dental Hospital Intern
Government dental hospitals are healthcare institutions operated by the government, dedicated to providing comprehensive dental care to the community. They offer a wide range of general dentistry treatments, including dental exams, cleanings, fillings, extractions, and preventive care. These services focus on maintaining oral health, diagnosing dental issues, and addressing common dental concerns, ensuring that patients receive essential dental treatments.
Government dental hospitals differ from other healthcare facilities in several ways. Firstly, they are publicly funded, aiming to provide accessible and affordable dental care to all individuals, regardless of their financial background. Additionally, these hospitals often serve a large volume of patients, with millions of dental procedures being performed annually. Government dental hospitals also benefit from advanced dental technologies and resources, ensuring high-quality and efficient dental care.
As a dental intern at a government dental hospital, you can expect to be actively involved in various aspects of patient care and dental procedures. One particular area of focus will be wisdom teeth removal, a common dental procedure performed at government dental hospitals. you'll have the opportunity to observe and assist in wisdom teeth extractions, gaining practical experience under the guidance of experienced dental professionals.
Work at Military Dental Clinic
Internship opportunities at a military dental clinic offer a range of benefits. The experience gained in a military dental clinic setting is unique, focusing on specialized dental care tailored to meet the needs of service members. you'll develop valuable skills in emergency dental care, dental trauma management, and restorative dentistry, which are essential in military healthcare environments. Being part of a military dental clinic also instills a sense of pride and fulfillment as you support those who serve their country.
Qualifications for an internship at a military dental clinic typically require completion of dental school or enrollment in an accredited dental program. Additionally, you must meet specific eligibility criteria set by the military, such as U.S. citizenship or the ability to obtain appropriate security clearances. Strong clinical skills, professionalism, and a commitment to serving the military community greatly enhance your chances of securing an internship at a military dental clinic.
you'll have the opportunity to offer a wide range of dental services as a dental intern at a military dental clinic. Restorative dentistry, including fillings, crowns, and bridges, will be a significant aspect of your work, focusing on restoring oral health and functionality for military personnel. You'll also actively participate in dental exams, cleanings, and oral hygiene education, emphasizing preventive care among service members.
Dental Research Institution Internships
Dental research institution internships offer an exceptional opportunity to immerse yourself in the world of dental research and contribute to advancing oral healthcare. These internships provide a unique environment where you can engage in cutting-edge research projects focused on various aspects of dentistry, including periodontal pain. It provides an opportunity for dental interns to work alongside experienced researchers and dental professionals who specialize in investigating the causes, mechanisms, and treatments of oral diseases.
During your internship, you'll have the chance to actively participate in research studies, data collection, analysis, and interpretation. This hands-on involvement will deepen your understanding of periodontal pain and its impact on oral health. Moreover, you may be involved in exploring innovative treatment modalities and therapeutic approaches to alleviate periodontal pain and improve patient outcomes.
Overall, working in a dental research institution allows you to collaborate with multidisciplinary teams, including scientists, clinicians, and educators. This interdisciplinary approach fosters a rich learning experience and exposes you to diverse perspectives in the field of dental research. You'll also have access to state-of-the-art research facilities and technologies, enabling you to conduct experiments and investigations with precision and accuracy.
Dental Implant Center
A dental implant center is a specialized facility that focuses on the placement and restoration of dental implants, offering innovative solutions for individuals seeking to replace missing teeth. Dental implants have become increasingly popular, with an estimated 3 million people in the United States having dental implants. These implants not only provide functional benefits but also play a significant role in cosmetic dentistry, as they can restore a natural-looking smile and enhance facial aesthetics.
At a dental implant center, you can expect a comprehensive range of services related to dental implants. The success rate of dental implant procedures is impressively high, with the National Institute of Health reporting success rates of over 90-95% in properly selected cases. The center will have experienced implant specialists who are skilled in implant placement surgery as well as other dental interns utilizing the latest techniques and technologies to ensure optimal outcomes.
In addition to cosmetic dentistry, the dental implant center may offer additional procedures to support implant treatment, such as bone grafting or sinus lift surgeries. These procedures help augment the jawbone structure and provide a solid foundation for successful implant placement. These additional procedures ensure that patients with insufficient bone volume or compromised sinus cavities can still benefit from dental implant treatment.
Pediatric Dental Practice
In pediatric dental practice, the focus is on providing specialized dental care for children, creating a welcoming and comfortable environment that caters to their unique needs. As a dental intern in this setting, you'll have the opportunity to work closely with a dentist for kids, gaining valuable experience in pediatric dentistry. This includes performing dental examinations, cleanings, and treatments tailored specifically for children, such as dental sealants and fluoride treatments.
Interning at a pediatric dental practice is an ideal opportunity for dental students or recent graduates who have a passion for working with children and want to specialize in pediatric dentistry. It allows you to further develop your skills in managing the oral health of young patients and become familiar with behavior management techniques that help children feel at ease during dental procedures. The experience gained in a pediatric dental practice can be valuable if you plan to pursue a career as a pediatric dentist or if you simply want to broaden your dental skill set.
Some internships may offer financial compensation, while others may be unpaid but provide invaluable hands-on experience and mentorship. It's important to inquire about the specific payment arrangements when applying for internships at pediatric dental practices. Regardless of the financial aspect, the knowledge and skills you gain during your internship will be invaluable and set the foundation for your future career in pediatric dentistry.
Orthodontic Clinic Internship
Orthodontics is a specialized branch of dentistry that focuses on correcting irregularities in teeth and jaws to improve their alignment and enhance overall oral health and aesthetics. At an orthodontic clinic, specialized dental care is provided to diagnose, prevent, and correct irregularities in the alignment of teeth and jaws. The clinic's primary focus is on orthodontic treatments, including braces, aligners, and other corrective devices, to help patients achieve straighter and healthier smiles.
To secure an internship at an orthodontic clinic, it's recommended to actively seek opportunities through networking, reaching out to dental professionals, or contacting the clinic directly. Many orthodontic clinics offer internships specifically for dental students or recent graduates, providing valuable hands-on experience in the field. Express your interest and motivation as a dental intern to increase your chances of securing an internship at an orthodontic clinic.
Interning at an orthodontic clinic is an excellent opportunity to expand your knowledge and skills in orthodontics. By immersing yourself in this specialized field, you'll gain practical experience, improve your understanding of orthodontic procedures, and develop the necessary skills to contribute to reconstructive dentistry services. The knowledge and expertise gained during your internship will lay a strong foundation for your future career as an orthodontist or in any other field of dentistry you choose to pursue.
Dental intern opportunities after graduation offer invaluable hands-on experience, expanded knowledge, and refined skills in various dental settings. Private dental clinics, university dental schools, community health centers, government dental hospitals, dental research institutions, and specialized dental practices provide unique benefits and valuable learning experiences tailored to your growth. Actively seek and pursue these opportunities to establish a solid foundation for your future dental career, contribute to patient care, and make significant strides in the field.