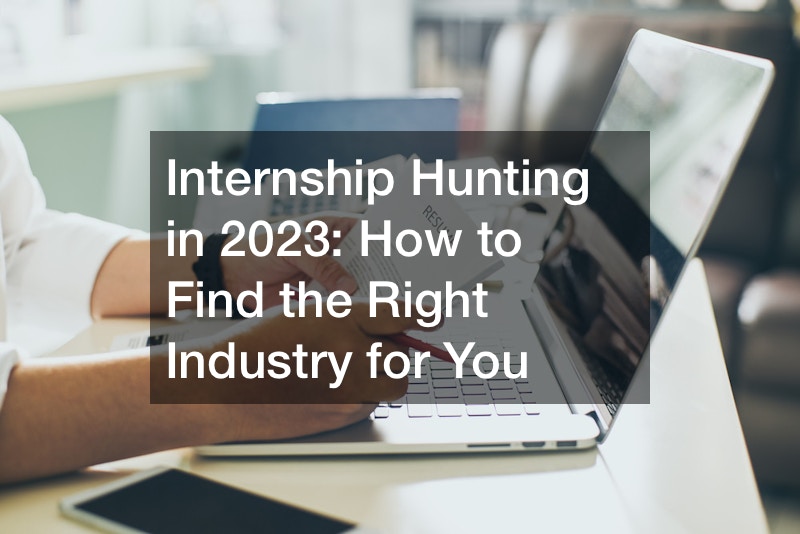 Congratulations on graduating from college or university. Now, it's time to enter the workforce and get the dream job you've always wanted. But those who've been there before will tell you that finding a job isn't easy for college graduates. Therefore, you must seek internships to gain industry experience before an employer hires you. Here's how to find the right industry for you.
What is an Internship?
Many people use the terms internship and attachment interchangeably. However, there is a thin line between the two. An internship is a work or learning experience companies offer to young professionals/graduates. Typically, internships are more formal and structured compared to attachments.
An internship equips you with a hands-on learning experience in your chosen career. They can be paid or unpaid and usually run for a particular defined period. Internships are generally longer than attachments. Wondering how to find the right industry for you? Read on.
Finding the Right Industry for Your Internship
Employees want to hire professionals with relevant experience. However, you can only get the experience from the job. This makes it challenging for young graduates to step foot into their various industries. It all starts with finding the right industry. Here's how to find the right industry for you.
Start With a Self-Assessment
Before you even begin hunting for internships in your field of study, you must understand yourself and your needs in relation to your career path. Do you know that a good number of students don't even know the industry they'll work in after studying? Well, we can't blame.
Self-assessment allows you to explore your abilities, preferences, and long-term objectives. This helps ensure you choose an industry that aligns with your unique profile. Start by taking an inventory of your hard and soft skills. Hard skills are specific, job-related abilities, including programming, data analysis, and design. Soft skills are interpersonal and communication abilities, leadership, teamwork, and problem-solving.
Equally important is uncovering your interests and passions. You can't work in an industry that you're not comfortable in. Therefore, when seeking internships in 2023, consider subjects and industries that excite you, both physically and academically. Your passion is a powerful motivator in your internship search.
For instance, if you have a deep passion for the environment and marine life, you might find the aquaculture industry ideal for your internship. You can search for " Maine aquaculture jobs for interns" to find an opportunity. Additionally, if you find satisfaction in enhancing living spaces and have a creative eye, consider internships in the home building industry. You have various options for architecture, interior design, and construction.
Keyword-Focused Research
We're in 2023. So you don't have to keep bothering people about how to find the right industry for you. Technology is here to help you in your search. Today, almost every company has an online presence, specifically a website. This makes it easier to find almost anything online, with the right keywords, of course.
Therefore, you can consider keyword-focused research on the industries you're interested in. You can do this on online search engines like Google and job boards to find internship opportunities. However, you must use the right keywords to find an opportunity that aligns with your personal and career needs.
For instance, if you're interested in garage cleanout service jobs, just use the keyword "garage cleanout service internships." The search engine will display a list of internship opportunities in this industry. It's now your work to filter through the results and find the right company. However, since it's your first time, you don't want to be highly selective.
Networking and Industry Insights
Do you know you can find an internship opportunity just by attending an event? Networking is crucial in finding the right internship for you. But the question is, how do you network? Remember, not every event will land you a job opportunity. Therefore, you want to ensure you attend the right event, hosting people from your industry.
Industry-specific events are ideal for your internship search mission. For instance, if your career falls in the construction niche, events hosting home builders will be ideal. Here, you can find professionals who can link you up to an internship opportunity.
However, while at an event, don't just sit down waiting for an opportunity to locate you. Who will know you need an internship? It's up to you to engage with professionals and ask for advice on internship opportunities. This can be as simple as greeting someone, asking for the business card or social media handles, and following up to see whether they can help. If your career is in pest control services, consider attending events related to this industry.
Online Job Boards
Online job boards can be goldmines in helping you find the right industries for your internship. This is true, especially if you find those specializing in internships. They work similarly to search engines, just that they are websites. Here's how to find the right industry for you on job boards.
First, you can consider job search engines like Indeed, Glassdoor, and LinkedIn. Indeed allows you to filter internship listings by location and industry keywords. For instance, you can use terms like HVAC contractor to find an internship in a similar field.
Glassdoor, on the other hand, offers job listings for internships. Just use the right keywords to search for an opportunity. Filter through the results and find the ideal one. The good thing about this job search engine is that it also offers company reviews and insights. As a result, you'll not only find an internship opportunity but also have the chance to review several companies and find the right one.
LinkedIn is a professional networking and job-hunting platform that can help you secure an internship in your field of study. The platform has a job search feature that allows you to find jobs and internship opportunities in industries you're interested in. Additionally, you can connect with and follow professionals and companies to stay updated on internship openings.
When using LinkedIn for your internship search, ensure your profile is up-to-date and well-designed. You can do it yourself or hire someone to do it for you. Focus on tailoring your profile to match your industry. For instance, if you're looking for a roofing internship, highlight some unique skills related to this industry. You can also connect with professional roofers who can help you find an internship opportunity.
Apply Through Company Websites
Most companies have websites to attract people from diverse demographics. So, if you're interested in an internship position at a particular company, the first place to go to is their website. Here, you'll find information about internship programs and vacancies. Many companies post internship vacancies on their websites, particularly on the career or job opportunities pages.
Therefore, you can check these pages to find internship opportunities. You should also register on their email list to receive regular updates about internship openings. Many companies allow you to do so.
Additionally, while navigating the company's website, you also learn more about the company. Remember, your focus is not only on finding an internship but also on finding the right company and industry. So, feel free to go through employee reviews to understand the company before applying for the position.
Research Industries
You have a college or university degree but don't know the right company to send your application for an internship. It's common among many grads. Therefore, it's important to know how to find the right industry for you.
First, explore your academic background. Ideally, your course should determine the type of industry you'll work in. You can't be an auto repair technician when you do accounting. Therefore, review your degree program and academic coursework to determine the right industry for you.
Sometimes, you can work in a different industry unrelated to your course or degree. This happens, especially if you have a specific skill you can utilize to gain internship or job opportunities. For instance, you can learn web design and join the freelance industry—you don't need your college degree for this, although you must learn the skill from someone or somewhere.
When researching industries for your internship, consider factors like job prospects, growth potential, and personal interest. Common industries include healthcare, technology, and finance. Movers, for instance, are in the moving industry. Ensure you find the right industry that aligns with your course and personal interests.
Are Internships Important?
You might be wondering, do you really need to go through the hassle of finding an internship? Why not look for a job straight away? Well, employers only hire individuals with experience. But when you graduate, you only have the knowledge and not the experience. Here's how an internship can be helpful in your academic and professional journey.
Get Hands-On Experience
The primary objective of internships is to offer you hands-on experience in a real-world work environment. This exposure allows you to apply theoretical knowledge gained in the classroom to actual tasks and projects. You'll work with a supervisor who will guide you, helping you sharpen your skills. However, your tasks will be limited depending on complexity.
Explore Your Career Path
It's not mandatory to pursue a career in a field you studied in. For instance, you can work for a wire form manufacturer but have a degree in home building. Internships allow you to explore different career paths and industries. They offer a perfect opportunity for you to test the waters and determine if a particular industry or field aligns with your interests and goals.
Networking Opportunities
They say, "your network is your net worth." This explains why the wealthiest people in the world focus more on building solid networks while everyone else is trained to look for work. Sad to say, finding a job nowadays depends on who you know and not your knowledge or experience.
Internships are perfect for building professional networks. They allow you to connect with professionals in your industry, including colleagues, mentors, and supervisors. From them, you get mentorship, guidance, and potential job opportunities in the future.
Competitive Advantage
Do you know how many students graduate from colleges and universities every year? The numbers will shock you. Mind you, they all need to be absorbed in the job market. So, with so many people competing to find jobs, you need something that can set you apart from the rest, and this is where internships are super helpful.
Many employers value real-world experience when making hiring decisions. However, not all students find internships. Therefore, an internship can give you a competitive advantage, especially in a highly competitive job market.
Job Opportunities
Which is easier and more cost-effective between hiring a new employee and a current intern for the same job role? The latter, of course. This is the approach many employers use—and this explains the importance of internships.
You could land your dream job after three months or one year of internship in a particular company. Many employers use internships as a recruitment pipeline. If your performance impresses the employer, they may offer you job offers.
Get References and Recommendations
A positive internship experience can lead to solid recommendations and references from colleagues and supervisors. These can be valuable when applying for future jobs. Therefore, when working as an intern, you should focus on leaving a good experience at the company. For instance, establish a good relationship with colleagues and complete your tasks on time.
Tips for Finding an Internship
Knowing how to find the right industry for you might be easy, but finding the opportunity in a particular company is where the challenge is. However, there are a few tips and tricks to help you find internship opportunities. Here's how to find the right industry for you.
Create a convincing resume:
You need a good resume to land an internship. However, considering you have no experience, your resume won't have much information. Therefore, you have to entice the employer and make your resume stand out.
After graduation, your dream may be to work for the most reputable company in the nation, if not the world. However, the big names often want professionals with many years of experience. However, startups might be ideal for internships. For instance, you're more likely to get an internship in a startup company offering lawn care service.
We can't emphasize more on the importance of networking in the job market. It can land you many opportunities.
Now you know how to find the right industry for you. So, it's up to you to implement all the strategies and tips above to land an internship position. Good luck with your search.