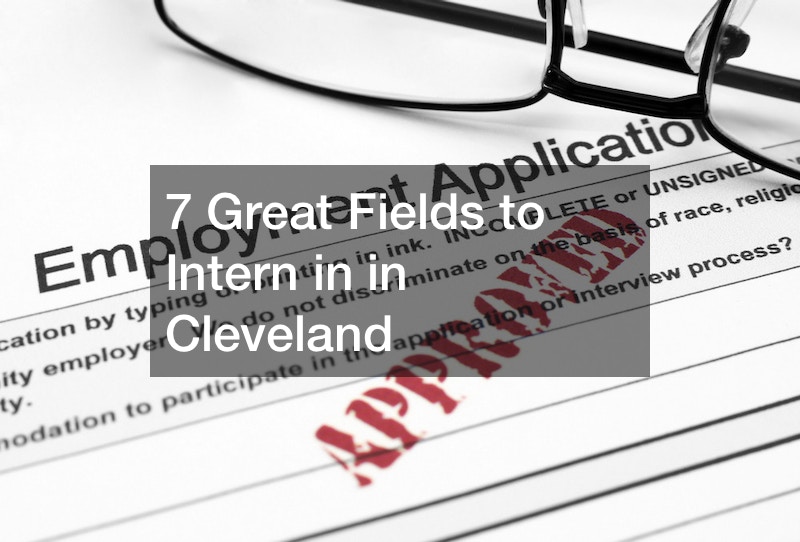 If you're living in Cleveland or if you are thinking of relocating to Ohio and you are searching for new career opportunities, you may want to take some time to test out internships that are appealing and relevant to you. Investing your time in the process of trying new positions and careers can be extremely valuable when you are ready to make a long-term decision that is right for you. If you are relocating to Cleveland or if you've lived in the city your entire life, you will want to test out internships to ensure you are making the right decision for yourself and your future.
1. Digital Marketing
When you want to test out internships, it's important to first consider your own skills and interests. The better you understand yourself, the easier it will be for you to determine which path is right for you, whether you are interested in website development or if you enjoy marketing products to a specific group of individuals. If you have a knack for advertising or if you enjoy creating beautiful and stunning visuals as your job, you may want to consider pursuing a career in digital marketing.
The Basics of Digital Marketing
Today, digital marketing has come a long way. With the advent of the internet, social media, video-sharing applications, and more, it is now easier than ever to maximize your reach when you are promoting a product, service, or even an idea. With digital marketing, you will learn the ins and outs of various platforms, solutions, tactics, and methods used today in order to promote brands, businesses, and even people with great ideas. Digital marketing will require that you understand various platforms from Facebook and Pinterest to different ad networks such as Google Ads and Instagram Ads.
Benefits of Pursuing a Career in Digital Marketing
Digital marketing is a career path that is ideal for anyone who has a knack for marketing and selling products or services as well as those who prefer working in a job that allows them creative flexibility and control. If you are someone who enjoys brainstorming and getting a bit creative during their workdays, working in a career in digital marketing may just be the right path for you. Digital marketers are well-versed in the latest technologies and trends online, providing them with a clear competitive edge when it comes time to market and promote products and services for a particular industry or individual.
2. IT
If you have a knack for working with electronics or you enjoy being on the internet and have been your entire life, another industry you may want to test out internships in when you're in Cleveland is the IT sector. Assuming an internship in the IT sector is a way for you to immerse yourself in the current culture and trends while also learning more about specific areas of interest that may be appealing to you on a personal and professional level. Whether you're interested in a career in which you provide IT relocation service solutions or if you have always dreamed of working as a system administrator for a Fortune 500 company, pursuing a career in IT is much easier once you have completed an internship for a well-known or reputable business in your area and region.
3. Medical
When you want to test out internships as a hair loss specialist or if you're curious about what it is like to work as a surgeon or a family physician, opting for an internship in medicine is one path to consider. Anytime you are thinking of going into the medical industry, it is imperative to take the time to consider what type of career you're most interested in and the education, skills, and experience that will be necessary in order for you to accomplish your goals and succeed on your own. Because the medical industry is so vast, you will want to take time out on your own to learn more about your options to determine which career trajectory is truly right for you.
Tips on Going Into the Medical Field
Anyone who is generous and enjoys helping others may find themselves drawn to industries such as the medical field. However, while it is a noble endeavor, it's imperative to know as much as possible about the field of medicine before determining if a path in the medical field is a genuine fit for you. Not all medical positions and careers are the same, as some require more time and extensive knowledge when it comes to the body. Familiarizing yourself with some of the most popular and common careers for those who are interested in going into medicine is one of the best ways for you to feel more comfortable when you are thinking of applying for internships yourself.
4. Landscaping
If you have a knack for landscaping and working outdoors, you may want to consider working as a landscaper when you're thinking of testing out internships in the Cleveland area. From offering hydroseeding services at local hydroseeding companies to planting trees and getting involved with hardscaping, there are many different sectors and submarkets to consider and keep in mind if you are pondering a career path in landscaping. Choosing to go into landscaping is ideal if you are someone who enjoys spending time in nature and if you are interested in a career that is more physically demanding rather than finding yourself stuck behind a desk day in and day out.
Advantages of Internships in Landscaping
Landscaping is an industry that is ever-evolving but not showing any signs of slowing down any time soon in the near future. Whether you enjoy gardening and landscaping around your own home, for neighbors, or even for local businesses and commercial clients, there are many different career paths and options to consider and keep in mind if you are planning a serious career as a landscaper or even as the owner of your own local landscaping business or company near you. Understanding the basics of landscaping will ensure you can maintain clients year-round. The more knowledgeable you become in the field of landscaping, the easier it will be for you to garner followers and appeal to clientele from around the country and in some cases, even the world.
5. Moving
When you want to test out internships and you're open to new ideas and industries, you may consider working for moving companies near you to determine if the transportation and physical labor industries are optimal for you. Working as an intern for local movers or a moving service near you that is reputable and trusted is a way to gain insight into the industry while understanding the inner workings of owning and operating a moving business of your own. Whether you are thinking of investing in a new moving business or if you want to start one on your own in the future, you can do so much easier once you have the hands-on experience of working for and with professional movers in your area and region.
How to Find an Internship in the Moving Industry
Whether you have the intention of owning your very own moving company or if you want to invest in moving service providers in the future, finding an internship in the moving industry is key to getting started off on the right path. Finding the right internship in a moving company is much easier to do if you already know individuals who are working for a moving company or even professionals who already own their own company. You can also seek out internships that are appealing to you and appropriate for your career needs when you choose to do so online. Searching for internships in the moving industry online is a way to compare companies, perks, and potential opportunities ahead of time before finalizing any decision you make.
6. Home Remodeling
If you have a knack for home remodeling and love interior design, you can test out internships in the remodeling and contractor industries, depending on your personal skills and the demand for labor and designers near you. Whether you have a vision of working as a professional countertop contractor or if you're more drawn toward the interior design of space once it is finished, taking the time to test out internships can have a major impact on the future trajectory of any career you have in mind for yourself.
Advantages of Interning in Home Remodeling
Internships in the home remodeling sector are extremely important for any individual who has a vested interest in construction, interior design, or even architecture itself. Interning in home remodeling provides a well-rounded experience for those who want to know more about what the process of building or remodeling an entire home is like from start to finish. Because homes and private property are some of the most valuable assets on the planet, investing in a career as a home remodeler or even in construction can provide you with the stability and job security you are looking for well into your future.
7. Graphic Design
If you are a creative individual who is looking to test out internships in Cleveland or the surrounding area, you may want to consider working as a graphic designer. Offering graphic design work is possible whether you prefer to work for individual companies, an agency, or even on your own as an independent creative freelancer. Graphic design projects can include developing new fonts, logos, and even banner advertisements for digital campaigns, depending on the type of work you're interested in, your skill level, and the art style you're most interested in using when working with clients of your own.
Types of Graphic Design Work
Working as a graphic designer is highly recommended if you are someone who enjoys creating art and designing billboards, logos, and other types of printed creative material in your free time. When you enjoy designing in your free time personally, you are much more likely to find a career or internship in graphic design much more rewarding and fulfilling. As a graphic designer, you may be tasked with designing business cards, invitations, or even entire banners and signs that are displayed high above the city, depending on where you live and the type of clients you are interested in assisting as a designer.
Tips on Getting Started as a Graphic Designer
If you are thinking of building a career as a graphic designer, you will need to dedicate time to understanding the basics of the subject, such as white space and classic art styles. Developing your own art style is also key when you want to stand out as a graphic designer, whether you intend to work with local or commercial clients once you are following a career as a graphic designer in the professional realm. Building a name for yourself and establishing a portfolio is also possible to do so with both local connections and online, depending on the type of presence and reputation you are interested in building for yourself in the industry.
Using the internet to build your own portfolio as a graphic designer is one of the fastest ways to break into the industry regardless of your background and education. Creating an official website will provide you with a platform to share your work and promote your ideas along with your original art style. Building a portfolio with the use of your official website and honing in on social media pages that represent your graphic design pursuits can go a long way in establishing a professional reputation and garnering a following as you appeal to future prospective clients.
When you are living in Cleveland and you want to test out internships, you can do so by first taking your time to assess the type of skills you have and the future you also envision for yourself. The more familiar you are with your own skills and abilities, the easier it will be for you to carve out a path that is most rewarding and satisfying for you. If you understand what is required in different fields and careers before you begin your journey, it will be much simpler when it comes time to find a career path and role that is genuinely the perfect fit for you.